Our cloud-native video editing tool, Vimond IO, gives you that possibility, as speed and volume is exactly what it was built for. And we want to give you the option to use it, for the duration of the election with unlimited use, to ensure you are able to satisfy your audience with around the clock updated information.
How does it work?
Being a cloud native video editing tool means we don't require you to install any software locally, we only put the load on the local machine that we need to, through the Chrome web browser. Being cloud-based also means that the tool is available anywhere in the world, at any given time.
With Vimond IO, content can be uploaded manually from your workstations, clips can be created from live streams, or we can bring in content from existing archives and media asset management systems. Setting up an account in IO only takes minutes and the workflow is built for speed. With cloud native software redundancy is inherent, with all accounts monitored 24/7.
The editing process gives you the ability to quickly cut and publish content using a professional and familiar UI with source, sequence, and timeline views.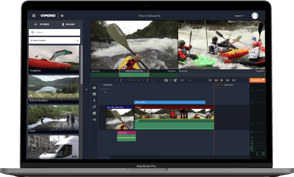 Using preloaded Adobe After Effects graphic templates make the tool very suitable for news coverage.
With the fastest render engine on the market, concurrent rendering removes the bottleneck, providing consistent performance no matter the load.
Once edited, content can be published immediately to social media or your own online platforms in multiple aspect ratios and bitrates.
Read how Vimond IO has helped other customers speed up their news workflows here:
Limited time offer! Sign up today! Available until Sunday 15th November.
For the duration of the promotional term:
◼︎Unlimited number of users
◼︎Unlimited storage
◼︎Unlimited import
◼︎Unlimited render and export for the duration of the package.
◼︎Ingest one Live 24/7 channel, SD or HD
- SD Channel up to 9.9Mbps ≤30fps Input
- HD Channel up to 9.9Mbps >30fps Input
◼︎Additional 24/7 live channel on request.
◼︎24/7 Helpdesk support included
Cost:
$999 USD (with no additional charge)
€849 EUR (with no additional charge)
+1 SD Channel
$599 USD
€499 EUR
+1 HD Channel
$899 USD
€799 EUR
Supported Live Input formats are:
| | | |
| --- | --- | --- |
| Container | Video codecs | Audio codecs |
| HLS | H.264 (AVC) | AAC |
| MediaConnect | H.264 (AVC) | AAC |
| MP4 | H.264 (AVC) | AAC |
| RTMP | H.264 (AVC) | AAC |
| RTP | H.264 (AVC) | AAC |