How does an audience discover new content? Crucial question. Finding new content is key for future growth, keeping your brand alive and relevant. If we only looked at all the content that's produced - content discovery would be endless. In practice, there are many variables that make this limited. This is is why a traditional broadcaster and an OTT service need data on how the content is best distributed to the viewer.
Incompatible KPIs between linear and OTT
This is something that's not always addressed but can be very relevant when a traditional broadcaster or distributer launches a streaming service as an add-on service. For a Pay TV Operator, "Time to Play" is something they wouldn't normally measure. Watching content on a STB is almost immediate, and the only choice is which channel to watch. It's better to understand which content will be viewed by the majority. For a streaming service, time to play is crucial and how personalized the final selection was for the viewer.
Why such difference between two similar mediums?
Traditional broadcast and linear TV
For a broadcaster, the ultimate goal is to purchase the content that reaches the largest number of viewers. It's a top-down distribution, starting with premium content and ends with the viewer who is part of a general and broad audience. In between, the broadcaster will make selections and promotion, picking the best of the best and removing everything else that's not fitted prime time.
Choice becomes limited, but it's a choice between premium and premium. This is where the opportunities and limitations lie for content discovery, and based on that relevant KPIs can be applied.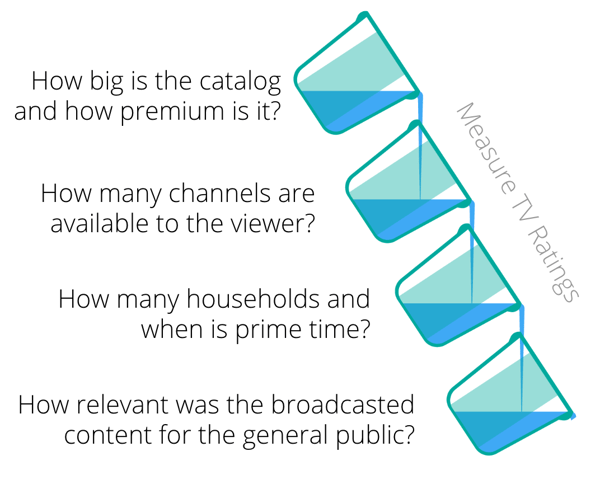 A high-level example of identifying the opportunities and limitations of content discovery for traditional broadcast.
KPIs to reach a broad audience
At the start, the broadcaster will purchase and produce content, to fill the linear channels with news, sports and entertainment content. Premium rights are costly but will give better ratings. The TV scheduler is making the initial selection of content with a broad audience in mind and airing it when most people are home and are watching TV.
From this you collect data which will drive content discovery.
Define how many households you can reach.
Define the prime time window when you get the best ratings.
Compare TV ratings between the different shows to see which content is performing well.
Feed this data back to the scheduler so you can promote your top-performing content to get more ratings, and plan for when and how to introduce new TV concepts that you think have potential.
Feed this data to the business unit so more premium and high-rated content can be purchased or produced.
Segmentation opens up choice
Decision psychology describes a need for balance between free choice and limited options - in order to make us humans happy. For a TV-sofa audience, this is when we can say "what else is on?" and switch over to a different channel. Segmentation is a perfect way of addressing this, without radical changes the business model. The illustration below shows the seven TV channels of TV 2 Norway and how they segmented it into Entertainment, Sports and News.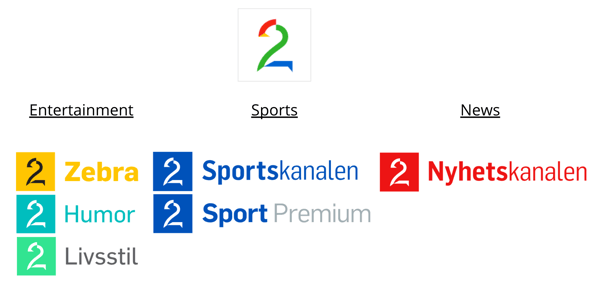 Examples of TV2 and its seven channels.
Pure OTT and streaming services
The ultimate goal for OTT is for the viewer to watch what, when, and wherever they want. It's starts a bottom-up distribution model that begins with the individual and ends with the full catalog, including long tail catalog, e.g. niche, local and mid-rated content. The choices becomes endless. Therefore, the service is providing its end-users with content discovery features like intuitive UX, searches, hero banners and clever AI based recommendations. The opportunities and limitations for content discovery lies in how well a service is helping the user to find relevant content. With this perspective, relevant KPIs can be applied.

KPIs to search in a broad catalog
Searching for the most relevant content starts by searching for which service to subscribe to. Let's say you already manage to build a service, with good content behind a powerful brand, design and UX. The starting point is the landing page. The road to start watching a new show is not a straight user journey and the viewer might use several features.
UI/UX
The landing page will contain samples of what the overall service has to offer. First impression is to make people stop and actually think about what this has to offer. Make sure you build the UX on a flexible backend where your editors can be creative with your posters, titles, visual elements and videos. Perform A/B testing on individual elements such as content rows or hero banners, and measure how the scroll-through-rate and interactiveness is effected. Ineffective features, which people simply ignore, should be removed.


Workload
It's not only your end-users who struggle when the catalog offers endless choice. To manage ingestion, editing, curation and publishing, the editors need a high-performing video backend and CMS. Measure the number of clicks and time spent on building individual content rows, error rates on metadata and creative freedom will indicate how well the system is performing.


Browsing
Measure how much time is spent on looking for content is crucial. How long did it take for a user to search for something until they actually watch it.


Relevance
After your viewer finally decided what to watch, it's important to measure how relevant this really was for this specific person. For how long is the person watching, and will he or she watch it or similar content again?
Example: Watch later-playlists
A commonly used feature where end-user picks content to watch later, usually presented as a content row.
If it's not used, it brings no value to the UI/UX and can be removed. TV 2 Sumo, together with Vimond, tested the feature with multiple lists for each user. In A/B testing it was shown it wasn't used, and was later brought down to one list per user.

If it's just an ever growing list, where more content is being added and very little is being removed or watched, it's an indication that you have good quality but is being presented when it's not relevant.

A good performing watch-later list is when people add content while they are in a browsing-mode, for example as they commute to work, and start watching it during prime time, for example the next weekend.


Personalisation reduces choice
It's old news that: with the internet, companies can monetize on niche products. What's not always addressed is what decision psychology calls infobesity (or information overload) and causes over-analysis. This is when an OTT service introduces a recommendation engine and personalized content.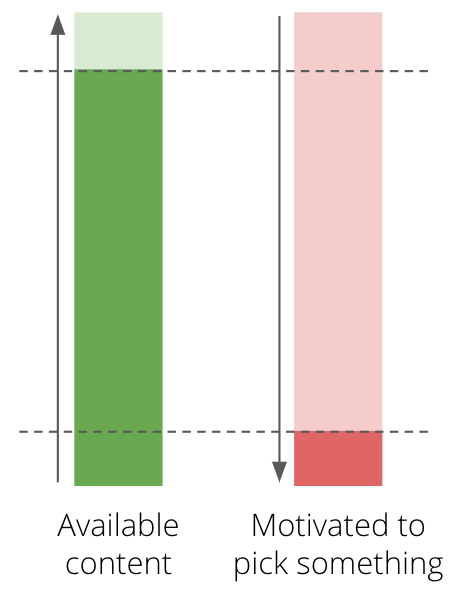 Illustration of information overload and the growing need for personalization in the OTT space
Pure niche SVOD channels don't face this problem as the end-user already made the biggest choice when they started to subscribe. Nordisk Film is a good example, who has a multi-channel niche strategy and only need one editor per service. The problem is when the OTT service starts scaling.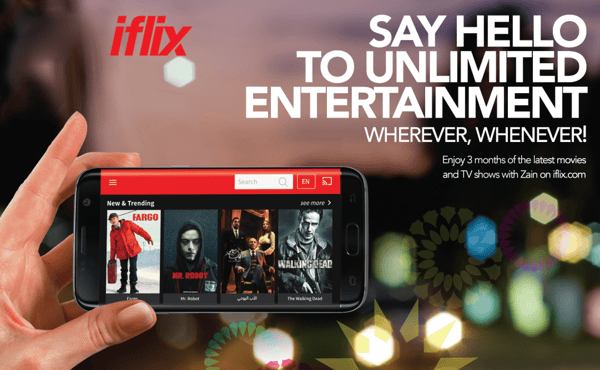 Say hello to unlimited entertainment- iflix ad from Zain
If you expand your catalog but the workload is growing, browsing time increases and the relevance decreases, personalization is a must. A good analytics engine will provide data for your video CMS, so the editors can work efficiently and give relevant recommendations to the end-user to reduce choice.
In episode 3 of
, Vionlabs is guesting and talks more about relevant KPIs for recommendation engines and content discovery.
"When I used to work at Comhem, we had almost 200 TV channels, 60.000 hours of catchup and 10.000 movies for rentals. If you want to bring that down into 15 posters on an iPhone, you need to do some heavy lifting on the personalization space". - Patrick Danckwardt, Business Developer at Vionlabs
VOD meets linear
What is the perfect balance between too little and too much choice? An interesting question where many are pointing towards VOD-to-Live. Reed Hasting said in 2016 that Netflix biggest vision was just to have a big play button as you enter the service.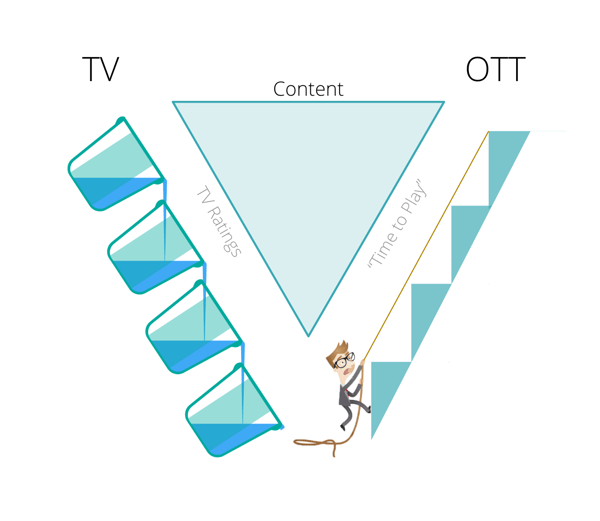 Linear is about managing the limited choice of the viewer, presenting the best of the best. OTT is about managing the endless choice, to watch what, where and when ever they want.
Vimond interviewed Kristian Bruarøy, former Head of TV 2 Sumo, about using a TV Scheduler for a SVOD service in the article the hidden secrete of VOD navigation. Adding recommendation technology on top of it, and fully personalized live channel are not far away. Already in 2015, the news agency Reuters launched together with Vimond, Reuters.tv where VOD assets is presented as a linear broadcast.