Every day, many millions of end-users globally interact with content powered by Vimond. We depend on technology every day, whether it's in our pockets, on a desk or mounted to a wall, the technology is out there providing us with solutions every single day. 2019 is almost over and we at Vimond want to thank everyone for being part of our journey.
Let's have a look at the many exciting achievements Vimond has accomplished the last year.
Constantly improving our platform
As a video streaming technology provider for this growing industry we saw a need to look differently at how we attack the problem of scale - how we develop our software, how we deploy it, how we manage it, and in the end (and perhaps most importantly) how we architect it.
Through 2019 Vimond has been deploying a platform and company to efficiently serve broadcast scale in an industry that needs it. We have completed this work in 2019, and will continue to focus on feature development in 2020. Read more about it here.
Conferences
In 2019 Vimond has travelled the world to present our brand and our products in relevant conferences, summits and exhibitions. Globally, we have been present at 30+ events like CabSat in Dubai, SVG's Nordic Summit in Bergen, NAB in Las vegas, NEM New EU Market in Dubrovnik, IBC in Amsterdam, Streaming tech in Stockholm, SportsPro OTT Summit in Barcelona, Nextv Series Berlin, Video Exchange Streaming London and many many more!
These events allow us to engage with great people, to learn wonderful new insights, enable new partnerships, initiate foundations for Proof of Concepts, engage with client and prospects and align our roadmap to include the latest trends and future developments. For 2020 we plan to be present again, and we look forward to seeing you there!
Vimond IO improvements
Our browser based video editing tool Vimond IO has been through many exciting improvements throughout the year. Users who signed up at the start of April were then able to use our new Graphics importer in time for NAB, by May they could enjoy the improvements to the IO Live interface, by June they had the ability to pan and scan in alternative to source aspect ratios, and in July and August we focused on improving stability and delivery for enhancements to IO Live. For IBC we improved the dashboard, exposing controls for managing and sorting projects.
This latest feature allows us to import high bite rate production files and work with multiple audio channels. Coming early in the 2020 update you will be able to import still images and audio only files, and we made enchantments in our graphic engine to support a wider range of after effects features. If you are curious to learn more, you can check out our Vimond IO think piece.
A new Vimond website
In September we were thrilled to announce a new website in time for IBC. We opted for a greater focus on our product pages in order to make it easier to understand how we can help broadcasters and content owners with our tailored cloud-based video products and solutions.
Awards
At this year's IBC Vimond was featured in 'What Caught My Eye' Top 6 award where PBS's Renard Jenkins, a 30 year veteran of the television and film industry, explored the most exciting, innovative and important products of the IBC show. This year our cloud-based video editing tool Vimond IO was awarded.
We were also listed as one of the most interesting, important, and influential companies in the online video space by Streaming Media Europe! In addition, we were nominated runner-up in the categories Media Asset Management and Streaming Services.
A big thanks to everyone who has been a part of our journey this year. Vimond is looking forward to a new year of experiences, innovations and learnings. And we are excited to go head boldly into the future with you.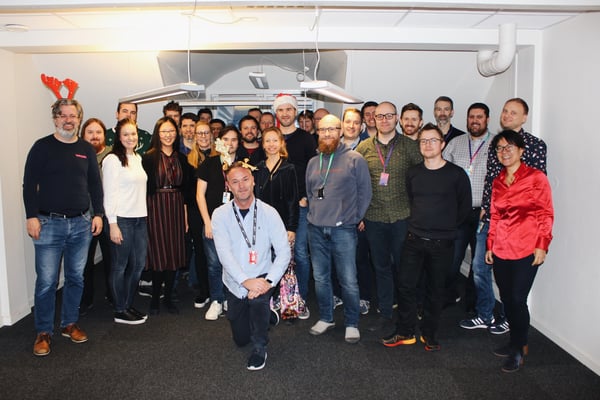 Happy holidays, and see you in 2020!