Video editing in the cloud and web based workflows are here and are not going anywhere. If anything, like the evolution of the floppy disk to flash drive to cloud - it's getting easier and better every year. Nothing about this a particularly new idea, though. Some companies in the last decade created video editing software when Microsoft Silverlight supported it. However, since that plugin stopped being supported, no companies were able to find technology that was able to stand the test of time and innovation without it. Luckily, that time has past and web based video editing is here to stay - for good. It's better than the alternative and, like cable providers making the jump to online or OTT video, it's where everyone's headed next.
Many steps, much painful workflow
Step 1: You download your video asset locally. (Grab a coffee while that's in the works. You've got time.)
Step 2: Head to your editing station, transfer asset to your system, and edit away.
Step 3: Output it to your website from there.
Step 4: Find your managing editor or someone to sign off. Walk your laptop over to them or invite them to come up 6 floors to your editing station. Get the OK.
Step 5: Wait forever for it to upload. (Another coffee.)
Then onto Facebook. Then Twitter. Then YouTube…...
Or, take your asset and drop it into your browser. Edit it while it processes and uploads so it's ready to go when you are. It doesn't change anything you'd get with a local software or editing station, but makes puts it all into one step. Need your editor to sign off? Have them login at the same time and take a quick look. As soon as you're done editing you click "Publish" and it check the boxes for Facebook, Twitter, and YouTube. It's already uploaded - you just direct the output.
Done? Good! Now you can do this again and again - at a greater capacity and speed than any traditional or local hardware would let you.
Break the news, not the internet
Between live sports and politicians saying something "newsworthy" at any hour of the day, it's important to be able to let your viewers know what's going in both in words and in video. If you don't say it first, someone else will. Whether it's real news or fake news, someone will always try to beat you to it.
Late night at the office? You've just gotten home and something else happens. Who cares where you are? Grab any computer connected to the internet, from $120 Chromebooks or the newest Macbook, and login. Edit and push out right away. By moving all the processing power to the cloud, online workflows give newsrooms an alternative to traditional on-premise solutions. With frame-accurate video and audio editing in a web browser, you have a fully-featured storytelling tool which can be used anytime, anywhere - especially from the comfort of home.
ALL the second chances
Your doing you're best. Everyone makes mistakes - just like that one. Instead of going back to the beginning and re-doing all the work you just did, simply log back into your editing browser and fix that little spelling mistake in the lower third. The assets are always there and will automatically change in their given output. Version 2 of your clip is good to go and already uploaded - just like the first clip was.
Your managing editor can login to see your video to approve it before it goes live - any of your colleagues can do the same. If you work for a large news organizations then lots of your coworkers in the affiliate companies may reuse some of the assets that you work with. You can all access the same original asset or live feed and edit it in different projects or, you and a colleague can collaborate at the same time, on the same one.
Walking a mile or 500 in your shoes
Just like someone (probably) wanted a way to view every single picture of their dog from anywhere - it takes living through something to fully understand its necessity. Coming from a broadcasting and news background helps to realize the intrinsic difficulties of the traditional workflows of today.
In a competitive media world, you need to be first to publish breaking news. You need fast, efficient workflows that allow you to distribute clips to your audience before anybody else and from anywhere.
Vimond was created by a group of people who worked in Norway's TV2 newsroom and broadcasting departments. We help our clients bring the new world of online TV to everyone, everywhere.
For editors and anyone who works in putting videos online, we offer a duo of post-production tools that includes a cloud-based live-to-VOD clipping service and a collaborative editing suite called Vimond IO. All of our products are custom-configurable and can be integrated with any legacy workflow.
Meet our product team at IBC 2018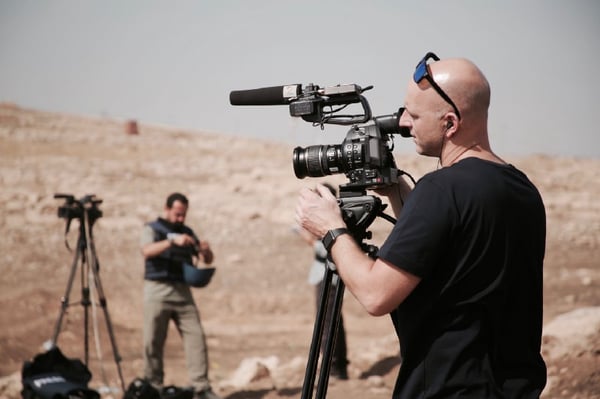 In the article,When Your Office is a War Zone, Kenneth Cuomo shares his experiences from Libya, Iraq, Israel, Gaza and Somalia, working as a news editor and cameraman. Today, he is working in our product manager, building software to help journalism and storytelling.
Meet us at IBC 2018 and learn more about Vimond IO and the future of journalism.