Content providers are finding themself in a position where they need to ensure broadcast quality while working fast in order to provide their audience with engaging and informative content. To do so, edits need to be done quicker, with less mechanical steps in a single system that can gather all the important steps of a post-production process. As the global pandemic has led to an increase in work from home, businesses have been forced to adapt to a situation where a lot of work needs to be done remotely ⏤ while keeping the business running efficiently.
Working in a cloud-based application allows for remote work that gives flexibility and the ability to scale up teams beyond a physical location. You can work on a story at any time of the day, ensuring distribution on stories that are new and relevant. With a cloud-based system you can replace the heavy on-premise systems, hardware expenses and the need for a fixed physical location to save cost and speed-up the process.
In Vimond we understand the changes that are happening and we tailored our cloud-based editing product, Vimond IO, to facilitate the important functionality required in a post-production environment, while at the same time ensuring speed and collaboration.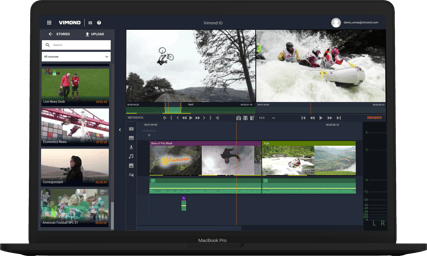 Vimond IO provides the ability to work from any location while having access to all your content. Upon editing, it allows for instant publishing to multiple social media and digital platforms. With IO you can take in various feeds, both from live or archived footage and edit all the important moments you need to share with your audience. It includes all the necessary functions to edit, archive and publish content to many different distribution points in multiple aspect ratios.
Being able to work from anywhere, at any time, collaboratively in a single application is a game changer for an industry that must work quickly and efficiently in order to reach its audience at the right moment.
Want to learn more about our cloud-based editing tool?